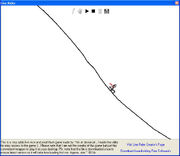 Line Rider Beta 1
was released by
Boštjan Čadež
(also known as "
fsk
"), a Slovenian student. Originally appearing on
DeviantArt
on September 23, 2006,
Line Rider
quickly became an internet phenomenon.
[1]
As
fsk
stated "Its not a game, its a toy. What I mean is there are no goals to achive and there is no score."
[1]
The basic concept is to draw one or more lines with the mouse on which a boy (referred to as "Bosh" by the creator
[2]
) on a sled can ride after the player presses the "Play" button.
History After Beta 1
Edit
On December 5, 2006, beta 2 was released, then, in August 2007, Beta 2 Revision 6.2 was released.[3][4] This was fsk's last release of Line Rider. On December 20, 2006 inXile Entertainment announced that is acquired console rights to Line Rider.[5]
References
Edit